HootSuite for Android Released and iPhone App Updated
HootSuite expands mobile offerings with a new Google Android™ App and updated iPhone® App – both available in full and lite (free) versions. The social media dashboard allows users to manage multiple Twitter accounts, compose and schedule messages, and track statistics on the go. The updated iPhone App also includes Facebook integration and landscape view feature.

Vancouver, Canada, March 2, 2010 — Building on the success of the HootSuite iPhone® App, the popular social media dashboard today launched a new version for Android™ – Google's open mobile platform – as well as an updated iPhone version featuring Facebook integration.
HootSuite – primarily known as a Twitter tool for professionals – helps marketers, support desks and collaborative teams use the popular micro-update tool to outreach to audiences, track conversations, and strategically publish messages. With the new mobile versions, professionals can stay connected to their promotional campaigns from virtually anywhere and all users can also choose a Lite version available free on both platforms.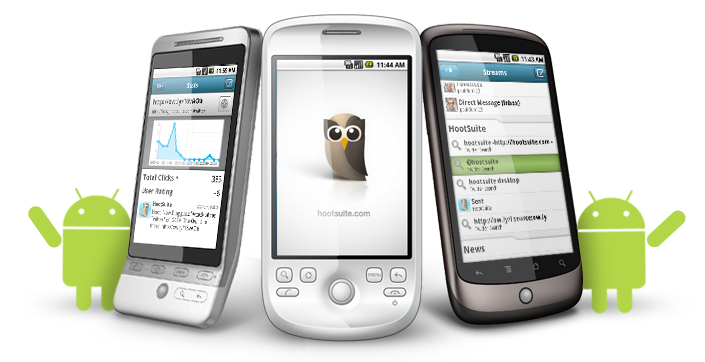 With the release, Android customers will enjoy the same tools as iPhone users, including:
Managing multiple Twitter accounts
Creating streams for #tags and searches
Scheduling messages for the future
Adding followers to lists and accounts
Explanations for trending topics
Sharing photos and shortening URLs
The full-featured versions for Android and iPhone allow unlimited Twitter accounts plus on-board, click-through statistics tracking whereas the Lite versions – available for no cost – are limited to three Twitter accounts.
The updated full iPhone App (to be released within days) features the highly requested additions of Facebook integration and landscape view. Existing customers who purchased the app will receive a update at no cost.
Both platforms are tightly integrated with the web version so current HootSuite users can quickly import accounts with help from a powerful wizard allowing them to sync workflow from desktop to handheld and not miss any messages.
Video: Sing along with "Robots" by Dan Mangan "Robots need love too ~ and they want to be loved by you."
HootSuite Mobile Overview
HootSuite for Android – $1.99 from Android Market – includes stats and unlimited accounts
HootSuite for Android Lite – free from Android Market – limited to 3 accounts
HootSuite for iPhone – $1.99 from Apple App Store – includes stats and unlimited accounts
HootSuite for iPhone Lite – free from Apple App Store – limited to 3 accounts
More HootSuite Info
Release post: http://blog.hootsuite.com/android-iphone-release/
Media Kit (logos, contact, screenshots): http://blog.hootsuite.com/media/
Android info: https://hootsuite.com/android
iPhone info: https://hootsuite.com/iphone
Screenshots
Note: Final version of Android App may appear different than these production screenshots:
HootSuite Media, Inc.
HootSuite helps organizations use the social web to launch marketing campaigns, identify and grow audience, and distribute targeted messages across multiple channels. Using HootSuite's unique social media dashboard, teams can collaboratively schedule updates to Twitter, Facebook, Linkedin, WordPress and other social networks via web, desktop or mobile platforms plus track campaign results and industry trends to rapidly adjust tactics.
Launched in Dec. 2008 by Invoke Media, HootSuite's rapidly growing user base includes governments, artists and organizations like Martha Stewart Media, SXSW and Zappos. Accolades include awards from Mashable's Open Web, Canadian New Media, and Shorty Awards.
Etc.
HootSuite™ is a trademark of HootSuite Media, Inc.
Android™ is a trademark of Google Inc. Use of this trademark is subject to Google Permissions.
iPhone® and iPod touch® are trademarks of Apple Inc., registered in the U.S. and other countries.
###